Does Homeowner's Insurance Cover Stucco Problems?
In some cases yes, homeowners insurance will cover stucco problems.  It's important to understand what the process is in getting this kind of problem covered.  Stucco failures which result in moisture intrusion can be very expensive.  Stucco Remediation can easily run into the high six figures.  The insurance companies don't give up these kinds of amounts very easily.
The Process of Getting Homeowners Insurance to Cover Stucco Problems Usually Begins with a Denial.
In most cases homeowners insurance will deny the stucco claim based on the fact that it will be called a construction defect.  In many standard homeowner's insurance policies, construction defects are excluded from coverage.  Unfortunately, many homeowners accept this outcome and end up paying out of pocket for the stucco remediation.  In some cases, the amount they spend is more than they originally spent to purchase the home!
A Stucco Claim Denial from The Homeowners is Only the Beginning
So a denial from the insurance company is not necessarily the end of the road.  There are public adjusters and law firms who specialize in getting these claims paid.  In the cases of using these kinds of professionals, typically there is no fee charged up front.  You'll usually pay a percentage of what is recovered.  Generally, the public adjuster is going to be less of a fee than the lawyer will be.  Therefore, you'll generally want to start there.
What's The Process of Getting a Claim Covered?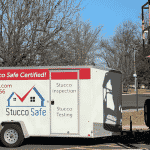 The first step is a high quality stucco inspection prior to any work being done.  The inspection needs to document the issues, and the severity of the issues.  Stucco Safe's stucco inspection process includes meticulous documentation of these issues.  The reports by Stucco Safe have been tested successfully at both court hearings and with insurance company adjusters.  Learn more here about our stucco inspection process What is a Stucco Inspection?
Let Your Claim Be Filed By A Pro
In my opinion, it is easier to argue for the amount of damage when you have a claim that is not denied off the bat.  In other words, you may have a $200K stucco problem, and the insurance company's first offer is for some drywall for $2,500. This is a better position to start than a straight denial.  If the claim is denied, hope is still not lost.
A Good Law Firm Specializing in Stucco Problems Can Help
Stucco Safe works with law firms who specialize in getting these kinds of claims paid.  Whether you have high end homeowner's insurance or not, claims can be paid.  Once the problems have been identified through the stucco inspection process, a plan will be made with you.  While of course no one can guarantee the outcome of this process, we have seen large multi 6 figure payouts from homeowners on these claims.  There are many homeowners with large stucco problems who have a great chance at getting insurance coverage for their issue.  In some cases, we even see homeowners who don't want to check the moisture levels behind their stucco, because they can't afford the repairs.  Everyone with stucco should have a Stucco Safe inspection right away!