Stucco Safe is a local provider of Stucco and EIFS inspections.
We service Southeastern PA, and Service New Jersey from both North Jersey and South Jersey to the shore areas. Stucco Safe performs our inspections with a unique process that leads to the most accurate results available. When you need a stucco inspection, EIFS inspection, or stone inspection Stucco Safe is glad to help with prompt friendly service and competitive pricing. Whether you need a Stucco Inspection in Villanova PA, or an EIFS Inspection in Short Hills NJ, we have you covered!
Stucco Inspectors for all of the towns in the Main Line area of Philadelphia.
Stucco Safe also works often in the city of Philadelphia and other surrounding towns and suburbs.  We service the Philadelphia region from our Collegeville, PA location.  Our 2 offices in New Jersey are convenient to all locations in the state of New Jersey.
When looking for a stucco inspection near me, important to choose a company that is independent.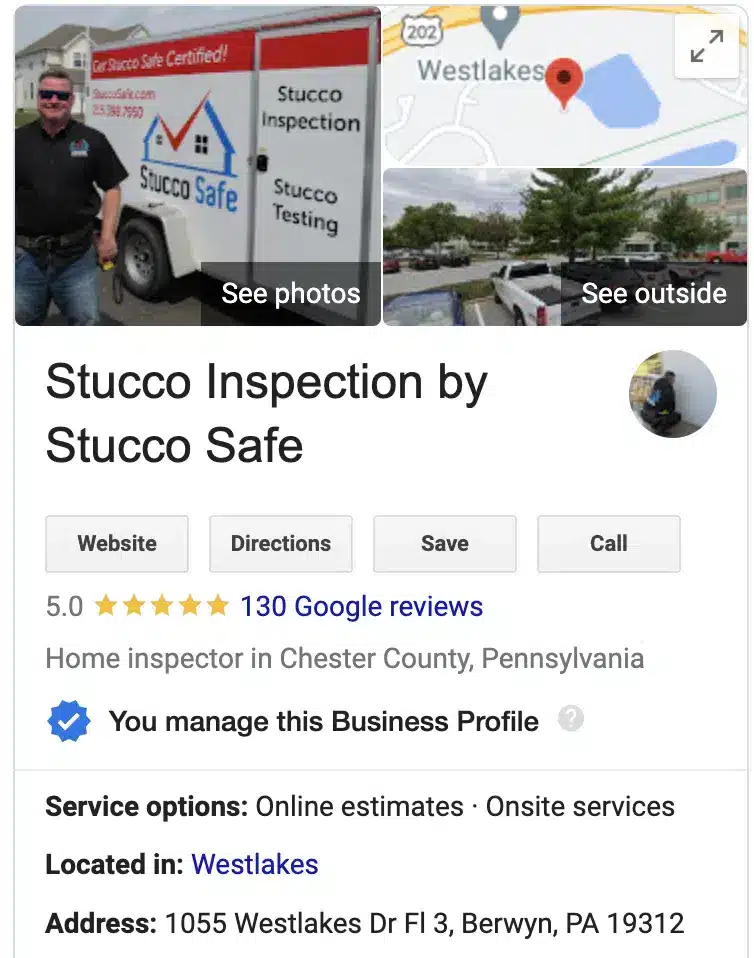 Many stucco contractors offer free or low cost inspections.  It's logical that a company that makes their living performing stucco remediation has a vested interest in finding problems.  Stucco inspections should be performed by an independent party.  What's Involved in a Stucco Inspection?
Sometimes folks will search for a "stucco inspector near me" and try to choose the lowest price provider.  Like with many services, cheaper is not necessarily better.  Stucco Safe performs many re-inspections to verify results of low cost providers.  Many times we find different outcomes.  Here's a few reasons cheap stucco inspectors go wrong:
Failure to properly identify substrate type
Meter hits flashing
Areas missed that have failure
Improper preparation of moisture meter
Looking for a stucco inspector near you?
Stucco Safe is the premiere stucco inspection company in the area.  We offer precise stucco inspections, next day reporting, and great pricing.   Give us a call today! Our phones are answered by stucco experts.  We can provide quick price quotes that are highly competitive.  Visit our home page for more info.  Home