Stucco Inspection with Stucco Testing
Is the process where the conditions behind the stucco system are assessed. Each year thousands of owners of stucco homes find mold problems with the wood components behind their stucco system. Do you have mold growing behind your stucco system? Eventually, the mold will progress to the drywall and the problem becomes much more expensive.
When buying a home a Stucco Inspection with Stucco Testing is critical
Generally, if problems with mold and rot behind the stucco are identified by a buyer, the sellers will typically provide credit. Stucco inspection is not generally provided by a traditional home inspection. It is important to use a company that specializes in stucco so major problems are not missed. Stucco Safe offers 2 general kinds of inspections.
Non Invasive Stucco Inspection
Non-invasive stucco inspection generally involves a visual inspection of the stucco followed by an infrared scan.  Although this kind of inspection can provide clues to the condition of the sheathing, it can not identify the most common issues.  The reason for this, is that rotted wood substrate will not on its own provide a thermal signature.  Therefore, this inspection is not the preferred method for stucco inspection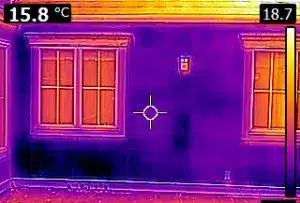 Invasive Stucco Inspection
Invasive "stucco inspection" is often referred to as "stucco testing".  In this process, small probes are inserted through the stucco system.  These probes are connected to a moisture meter.  The meter shows the moisture level of the substrate.  If there is high moisture content, an additional step is taken which is a core sample.  A core sample is a slightly larger hole, about the size of a quarter, that allows the inspector to view the substrate and document its condition.  If there is wood rot it will be visible with the core sample.  Once readings are documented, the holes are re-sealed with a color matching sealant.  You can see more information about the steps in this inspection here What's Involved in a Stucco Inspection?