Most Delaware County homes should have a stucco inspection performed.
The weather in the area can cause stucco systems to allow moisture to penetrate and cause mold problems. By the time mold gets to the drywall inside the home, the problem is usually large. Delaware County is part of the epicenter for Mold Stucco Inspection Services for Pa. Many newer homes built in the last twenty years have had serious stucco issues. There are many reasons for this stucco problem. The designs and lines of the newer homes along with different ways for stucco application and guide lines by the local townships overseeing the construction process has failed many homeowners.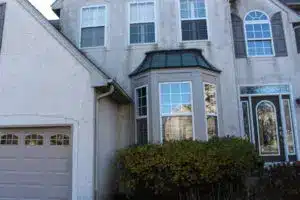 This is why stucco inspection in Delaware County is so important
Stucco Safe is the preferred stucco inspection service for Delco by Realtors and homeowners. We have become the go to stucco inspection company because we have the best inspectors that actual care about you. We will find every way possible to assist with the options if there are any mold problems. Stucco Safe has earned the reputation not to over dramatize any issue and find the best solutions to correctly fit in your budget. To be the most referred you have to be the best company along with the top rated inspectors. We feel were are the best stucco inspection company in Delaware County, providing full stucco inspections to the entire county of Delaware.  Learn more about our unique stucco inspection process here What's Involved in a Stucco Inspection?
Areas recently serviced around Delco: Glenmills | Chadds Ford | Collingdale | Bethel | Glenolden | Ridley Park | Norwood | Aldean | Havertown |
Why is it so important to recognize stucco problems right away?
Rotting sheathing behind the cladding can lead to moisture entering the insulation and drywall. This can create mold problems and create very unpleasant living conditions. Because water diffuses easily through many common building materials, the amount of damage that is created increases exponentially as each season passes.